Bruce Sterling spark op
"me you and everyone we know is a curator"
over de komende jongeren culturen.
Bruce Sterling
is een Amerikaanse science fiction schrijver. Hij is onder andere bekend van "The Zenith Angle" dat in 2004 uit kwam. Hij beschreef twee culturen Favela Chique en Gothic Hightech.
Gothic Hightech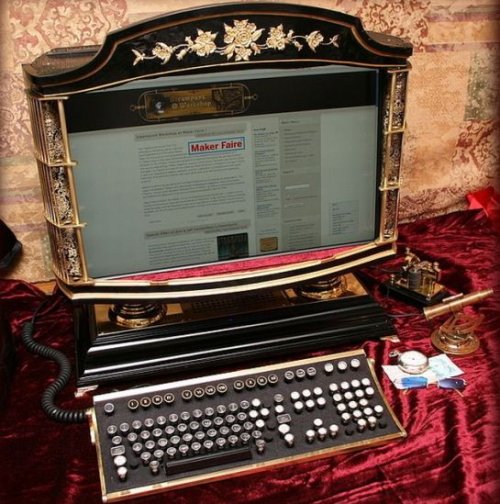 Gothic Hitech zijn is een combinatie van de gothic cultuur en hightech computer innovatie. Deze stroming zal vooral voorkomen in Europa. De gothic zullen wonen en leven in de oude overbodig geworden structuren van 20e eeuw. Ze zijn dus aan ene kant heel traditioneel, maar ontkrachten dit met hun hightech goederen. Door op een hightech en snelle manier te leven maken ze hun omgeving nog overbodiger. Het rottingsproces van hun omgeving zal nog sneller gaan door de hightech die deze gothics meenemen. Ze leven in het verleden en in de toekomst tegelijk. Je zou het kunnen vergelijken met
steampunk
.
Favela Chique
Favela Chique is een combinatie van opensource en favela. Favela chique kenmerkt zich door zijn continue ontwikkeling. Niks is ooit af alles is open en in ontwikkeling. Wanneer jij niet open bent of meepraat in hun technisch jargon dan bouwen we om over lang of door je heen. Het beste dat je kunt doen als je ombouwt ben door Favela Chique is wachten. De attentie spanne van Favella Chique is kort en alles wordt achter gelaten op willen van de ontwikkeling. De Favella kan komen in bijvoorbeeld de oude leegstaande kantoorpanden. Zoals Bruce het zelf omschreef:"The comer offices will be the habitat for tattoo artist and pimps"
Bruce sterling zag de eerste tekenen als in de huidige jongeren cultuur. Ik vind ze nog lastig te spotten, maar misschien ben ik met mijn 21 jaar wel te oud om dat te zien.